Alpha Lipoic Acid (Paperback)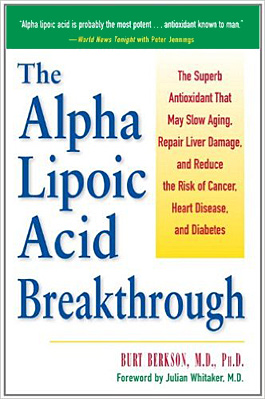 | | |
| --- | --- |
| Author: | Burt Berkson, M.D., Ph.D. |
| Pages: | 192 |
| Price: | $12.00 |
Are you looking for an effective way to fight the effects of aging and free radical damage? Would you like to reach and maintain your body's optimal health?
There may be no stronger way than with antioxidants - and there may be no stronger antioxidant than alpha lipoic acid.
This remarkable coenzyme, which occurs naturally in younger bodies but gradually diminishes with age, may very well be one of our best defenses against disease and aging.
In this balanced and informative book, Burt Berkson, M.D., shows you how supplementing your diet with alpha lipoic acid might help:
Protect against heart disease
Prevent or treat complications of diabetes
Prevent the progression of Alzheimer's and Parkinson's disease
Protect against cancer and strokes
Fight chronic liver disease
Combat the aging process
And much more!
Revealing the science behind this amazing antioxidant, Alpha Lipoic Acid Breakthrough provides a plan of action for improving your health starting now!
From the Trade Paperback edition.
About the Author
Dr. Burton Berkson has a Ph.D. in biology as well as an M.D. He was a professor at Rutgers University and Chicago State University. In addition he held research positions at the Max Planck Institute for Biological Sciences in Heidelberg, Germany (toxology), the University of Illinois (National Science Foundation), and the Cleveland Museum of Natural History (mycology and microbiology). The FDA appointed him principal investigator for intravenous lipoic acid in the United States. He is the only doctor to have used lipoic acid in the life-saving treatment in patients suffering acute liver failure. He continues to do research and operates a private practice in Las Cruces, New Mexico.

From the Trade Paperback edition.