2-Disc DVD set: 'Living Proof!' and 'Vitamin C: The Facts, the Fiction, and the Law'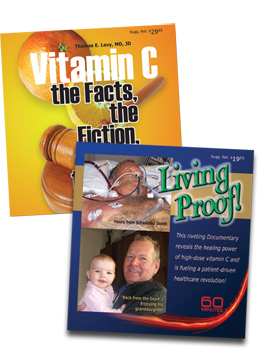 | | |
| --- | --- |
| Running Time: | 77 minutes |
| Price: | $6.99 |
A powerful, patient-driven, "We-want-access-to-high-dose-vitamin-C" revolution is moving in your direction! Energized by the
60 Minutes
Documentary "Living Proof?", a vitamin C advocacy group in New Zealand asked Thomas E. Levy, MD, JD to teach them more about vitamin C and to inform them of their legal rights regarding access to its medical use. This is a recording of that lecture.
Dr. Levy's book,
Curing the Incurable
(and personal advice to Allan Smith's brother-in-law) provided the information that allowed doctors to bring Allan "back from the dead." A panel of doctors had decided to remove Allan from life support so he could be "allowed to die." They told his family he would never recover from his bout with swine flu, white-out pneumonia, and hairy-cell leukemia. Armed with information covered in this lecture, his family demanded administration of high-dose vitamin C. The result was a full and complete recovery.
High-doses of vitamin C can cure diseases and neutralize the poisons we're exposed to every day. Hear the facts directly from the foremost vitamin C expert in the world. What you learn can change your life and quite possibly save the life of a loved one.