The Carnitine Miracle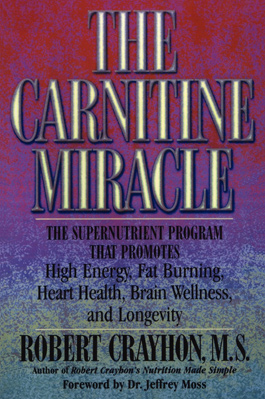 | | |
| --- | --- |
| Author: | Robert Crayhon M.S. |
| Pages: | 240 |
| Price: | $13.00 |
In The Carnitine Miracle, Robert Crayhon, M.S., has created a plan for wellness based on his extensive research and his fourteen years of clinical experience with this supernutrient.
Crayhon has developed the Carnitine Program to help you reap all the benefits of this supernutrient, and an easy and flexible eating plan that will help you lose weight while managing a wide range of health problems. The Carnitine Program is based on the principles of the diet of primitive humans, combined with the latest findings in optimal nutrition, to make for a simple, powerful, and nutritious eating plan, supplemented with carnitine.
In reading this book, you will learn that you can:
Lose weight
Increase energy
Lower cholesterol and triglycerides
Maximize heart health
Achieve peak sports performance
Increase mental energy and brain health
Treat a wide range of problems, including PMS, chronic fatigue, Alzheimer's and Parkinson's disease, and many others
From the Trade Paperback edition.
About the Author
Robert Crayhon, M.S., is a clinician, researcher, and educator who has been called "one of the top ten nutritionists in the country" by "Self" magazine (August '93). He is author of the best selling "Robert Crayhon's Nutrition Made Simple" and is associate editor of "Total Health" magazine. Crayhon is president of Designs for Health Institute, an educational institution that has trained health care practitioners in the latest findings in clinical nutrition since 1989.